Four police officers have been shot dead by at least two snipers at a protest in Dallas, Texas, police say.
Seven other officers have been wounded in the attack.
Police are involved in an ongoing stand-off with one suspect, who is exchanging "sporadic" gunfire with officers from inside a parking garage.
He has told them that "the end is coming", that he intends to kill more police, and that there are bombs "all over downtown Dallas".
Three suspects, thought to be two men and a woman, are in custody. Two of them were stopped in a car near the scene of the shootings.
The initial gunshots were heard at Belo Garden Park around 8.45pm local time, with Dallas police chief David O Brown saying the snipers took their shots "from elevated positions" during the protest.
He said the officers had been fired on "ambush style" and some had been shot in the back.
Two are in surgery and three are in critical condition in hospital, he added.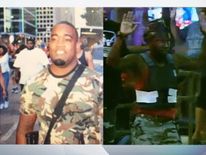 In a brief press conference, Mr Brown said: "Please keep us in your thoughts and prayers tonight."
TV showed protesters scrambling for cover and police officers crouching behind parked cars or running into a what appeared to be a car-parking building with guns drawn.
The scene remains chaotic, with heavily-armed police officers guarding street corners and helicopters hovering overhead.
Earlier police tweeted a picture of a "person of interest" but later said that he had handed himself in.
In a statement they added: "Another alleged suspect was in a shootout with Dallas SWAT officers.
"That suspect is also in custody.
"A suspicious package was discovered near this suspect's location. The package is being secured by DPD (Dallas Police Department) bomb squad."
In a further statement, police said a police officer had seen a person carrying a camouflaged bag, "walking quickly" down the street.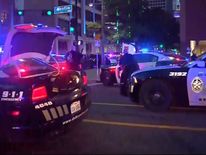 He then threw the bag in the back of a black Mercedes and the Mercedes "sped off at a high rate of speed".
Officers then followed the vehicle and stopped it.
Police are questioning two people found inside.
:: Live Updates: Two Suspects In Custody After Shootings
Texas Governor Greg Abbott said he had directed the head of the Texas Department of Public Safety to offer "whatever assistance the City of Dallas needs at this time".
The shootings came amid protests across the US over recent police shootings.
On Tuesday, music vendor Alton Sterling was shot dead in Baton Rouge, Louisiana, after being held down by police officers.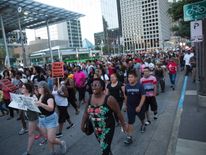 The following day, Philando Castile was in a car with his girlfriend and child when he was shot dead by an officer in Minnesota.
Both shootings were captured on mobile phones and the footage widely shared.
In New York on Thursday night, protesters gathered in Union Square Park, chanting before they moved on to Fifth Avenue, blocking traffic as police struggled to keep up with them.
Other groups headed through Herald Square and Times Square, where several people were reported to have been arrested.
Meanwhile, the police officer allegedly involved in the shooting of Mr Castile has been identified as Jeronimo Yanez.
Mr Yanez was with his colleague Joseph Kauser, both of whom had worked for the St Anthony Police Department for four years.