Small group planning to rally against the ABC's decision to invite the senator-elect onto the panel-based political program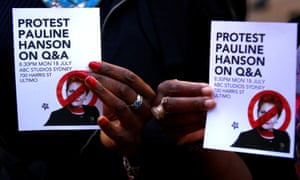 About 100 people were expected to protest outside the ABC studios in Sydney on Monday night against the public broadcaster's decision to invite Queensland senator-elect Pauline Hanson on Q&A.
Organiser Omar Hassan said he was "shocked" the ABC had given Hanson, whose party, One Nation, secured 4.27% of the national Senate vote at the 2 July federal election, "a greater platform to legitimise her views".
Hassan said Hanson's views were racist, ill-informed, and should not be listened to just because she had been elected to parliament.
He said he had received a number of abusive text messages and 84 voicemails from Hanson supporters since announcing the protest, which was due to take place outside the ABC TV studios in Ultimo.
The messages, some of which have been seen by Guardian Australia, called Hassan a "goat fucker" and a "nazi lowlife" and warned "if anyone harms pauline u r finished. Watch your back slime. 😠 "
Another message said: "Death to Islam and all Muslims, you filthy korandathals. You will watch your family burn in bacon fat!!
"You even approach One Nation, you will see a burning Qaran and the death of your family."
Hassan is not Muslim and said he organised the protest because he believed the program favoured rightwing voices.
"Week after week you have got the IPA (Institute of Public Affairs) or people like Steve Price, there's never anyone from the progressive left," he said, "The closest we get is Van Badham."
Price and Badham clashed on the program last week.
Guardian Australia has also spoken to a Muslim woman who was invited to be part of the Q&A audience but declined after receiving more than 20 abusive messages, including a message that Hassan also received: "We will be waiting for you! Filthy muslim scum! Our weapons are aimed at your neaderthall scull (sic)."
The woman, who asked not to be named to avoid further abuse, received the messages on social media after commenting on a post on the Q&A Facebook page.
She said she feared she would be attacked and reported the threats to the ABC, before warning other Muslims not to attend.
"Why would someone go there and be in harm's way?" she said.
"It's not worth it. I have got children … it feels like this is not the safe space in Australia that we are used to."
Hanson is expected to be asked about her election platform of stopping Muslims from migrating to Australia, after TV host Sonia Kruger told Channel Nine's today program that she wanted to see Muslim migration cease.
Kruger was widely criticised for the comment and released a follow-up statement on twitter, saying that she wanted to "be able to discuss these issues without automatically being labelled as racist."
Comedian Nazeem Hussain, who is Muslim, said Kruger would have been "sacked immediately" if she had suggested banning any other group of people.
"That she'll remain the host of two hugely popular shows on mainstream television after comfortably advocating for a ban on Muslims speaks volumes," he wrote on Facebook. "She'd have been sacked immediately if it was any other group."