Got a leftwing child? Bring them to Momentum Kids so they can plot the next government with other likeminded three-year-olds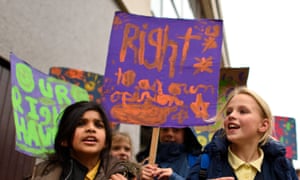 Name: Momentum Kids.
Age: From birth to adolescence.
Appearance: Covered in red crayon.
Is it a kids version of Momentum, the leftwing activist network created to support Jeremy Corbyn? That's right.
So, a bit like Gap Kids then? Um. In a way. Its founders aim to "increase the involvement of children, parents and carers in Momentum and the Labour party".
I see. And how are they going to do that? By providing childcare so that single parents can spend more time being Momentum activists. And "to increase children's involvement in Momentum and the Labour movement by promoting political activity that is fun, engaging and child-friendly".
All kinds of political activity? Absolutely, expressing the whole range of ways to agree with Jeremy Corbyn.
So, to recap: Momentum Kids brainwashes your children. "Brainwash" is such an ugly word.
Indoctrinate? That isn't how they see it. Sasha Josette, one of the founders of Momentum Kids, prefers to say that they will "create a space for questioning, curious children where we can listen to them and give them a voice".
A roomful of adults trying to make you share their strong political views? Could any space possibly be worse for a questioning child? I'll get back to you on that. Momentum Kids has already been running on a small scale for the past few months, but will now launch nationwide at The World Transformed. That's the big Momentum festival happening alongside the Labour conference in Liverpool.
What kinds of activities can the children expect at the festival? Well, there's storytelling with "Alan Gibbon", which probably means Alan Gibbons, the children's author who supports Momentum. And there's a street art workshop with "Sasha Jossette", which is probably the Josette we've been talking about.
Probably. Momentum Kids also shared details of the Teddy Bear Mandate, another children's event that will take place at the festival.
The what? "Bring your favourite toy to the workshop where we will imagine the party it might join and lead, and what it stands for. What is your toy's mandate, what are the positives that would make your toy a great leader? The children will make signs and banners and stage a mock protest."
What if the questioning, curious children want to protest against the Labour party's extremely unpopular leader? Let us just hope that, somehow, that won't happen.
Do call it: "Tiny Trots."
Don't call it: "Child Labour."