Coalition and Labor debate zombie measures as ministers defend drug-testing for those on welfare. Follow all the federal budget reaction live …

Updated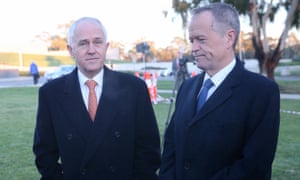 Lunch time summary
Richard Di Natale: Medicare levy hike should be on high-income earners
The Greens leader, Richard Di Natale, has responded to the budget by saying though it "maybe be Labor-lite, it is not Green-lite" because it did nothing to address climate change, and in fact encouraged fracking.
Asked about the 0.5% Medicare levy increase to pay for the National Disability Insurance Scheme, Di Natale said:



Our view is that if you're going to increase what is effectively a form of income tax – it's called the Medicare levy but we all know it's no different to income tax – you do it on high-income earners. That's why we would've liked to have seen the levy on high-income earners remain permanent, we think that's a much fairer way of doing it.
Di Natale said people on high incomes such as $1m in effect got a tax cut when people on middle or low incomes, for example $22,000, would get a hike.
The Greens leader didn't lock in to oppose the levy rise but said his party would negotiate with the government. He supported lifting the threshold that exempts low-income earners from the Medicare levy.
Updated
at 9.35pm EDT
Tony Abbott's zombie measures are officially dumped